---
Leading Crypto Currencies By Market Cap
Latest Article - What Bitcoin's Market Cap Reveals About It's Future
With Bitcoin losing half its value in under a month, clearly a bear market has unfolded. To give some sense of proportion, it would be like the S&P 500 falling to 1400 in a matter of a few weeks. The financial news would be replete with scary headlines. But this is what's happened not just in Bitcoin, but across the whole crypto currency spectrum. Many other cryptos have had it even worse.
Still, there's good reason to be bullish.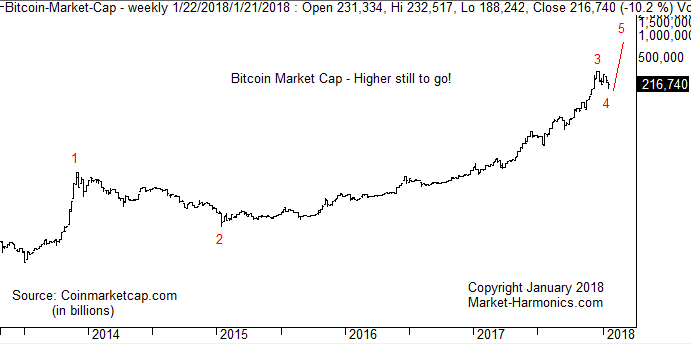 Having undergone a parabolic rise in 2017, particularly in the last quarter, a crash in Bitcoin's price should not have been unexpected. Much of that excess has already been eroded. When we look at BTC from the perspective of its market capitalization and not its price, a bullish Elliott Wave picture emerges. Under wave analysis, bull markets rise in five waves. As the chart of Bitcoin's market cap shows, the rise has been in three waves to this point. The fourth may be at or near completion, as it has retraced 38.2% of the previous advance, which is a typical retracement by a fourth wave. Because the chart is in log scale, the depth of the decline can't be fully appreciated, but at arithmetic scale it is actually quite substantial.
If our analysis is correct, it suggests a fifth wave will get underway to exceed the wave 3 peak. Since there's little in the way of metrics to gauge investor sentiment, market cap gives us some insight into how investors are valuing Bitcoin. Combined with Elliott Wave analysis, we have some context to look into the future.
By the way, if you want an edge in pinpointing the turnaround, try the new Crypto Currency subscription service being offered by Elliott Wave International, where my colleagues and I are providing round the clock coverage. Click here to learn more.
---
ęCopyright 2018 Market-Harmonics.com. All content presented is the exclusive property of Market Harmonics. com, which is owned & operated by T. Carrion & Co., LLC, and may not be duplicated or distributed without the express written consent of the author.
This information is provided strictly for educational purposes. No investment advice is being offered. Those investing in these markets are encouraged to consult with qualified investment professionals and perform their due diligence before putting capital at risk.