---
Leading Crypto Currencies By Market Cap
Latest Article - Crypto Market Cap and the Future
In the previous article, we looked at what Bitcoin's market cap suggested about its future on the basis of Elliott Wave analysis. In this article, we look at the message from the broader crypto currency market.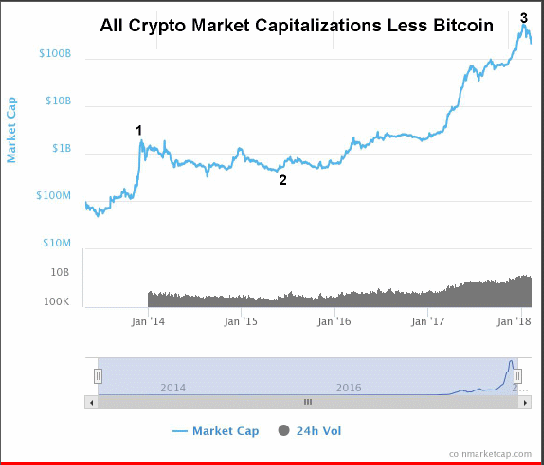 Here we see a similar rise in three waves over the historical period starting in 2013. Again, under wave analysis, bull markets rise in five waves, and the pattern here also suggests there should be a five wave pattern to complete the bull market. Clearly a mini-bear market has emerged, with the crypto currencies as a group shedding 51% of market cap from the peak in January of $542 billion, to $262 billion most recently. A little more erosion can't be ruled out. That said, the pattern suggests the mini-bear is within wave 4. That further suggests there should be a recovery and push to new highs in wave 5. We therefore still regard the bigger picture as bullish for the cryptos.
Tony Carrion
Previous Articles:
January 24, 2018
---
ęCopyright 2018 Market-Harmonics.com. All content presented is the exclusive property of Market Harmonics. com, which is owned & operated by T. Carrion & Co., LLC, and may not be duplicated or distributed without the express written consent of the author.
This information is provided strictly for educational purposes. No investment advice is being offered. Those investing in these markets are encouraged to consult with qualified investment professionals and perform their due diligence before putting capital at risk.