---
Leading Crypto Currencies By Market Cap
A Crypto Making A Ripple
Many eyes are on Ripple (XRP), a crypto currency offering a global payment system that is being increasingly adopted banks around the world. It is only third behind Bitcoin in market capitalization, but ironically is still trading below a dollar. It shouldn't likely be there for much longer.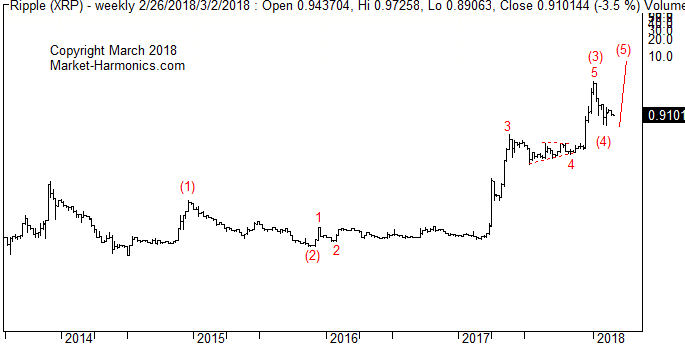 As the Elliott wave pattern for XRP suggests, the decline from the USD$3.84 all-time high in early January is a fourth wave. When complete (if it isn't already) it will yield to a fifth wave rally above the all-time high. Minimally, it should trade above $4.00.
Tony Carrion
Previous Articles:
February 8, 2018
January 24, 2018
---
ęCopyright 2018 Market-Harmonics.com. All content presented is the exclusive property of Market Harmonics. com, which is owned & operated by T. Carrion & Co., LLC, and may not be duplicated or distributed without the express written consent of the author.
This information is provided strictly for educational purposes. No investment advice is being offered. Those investing in these markets are encouraged to consult with qualified investment professionals and perform their due diligence before putting capital at risk.