---
Leading Crypto Currencies By Market Cap
Counting Z-Cash
According to its creators, Zcash is a cryptocurrency aimed at using cryptography to provide enhanced privacy for its users compared to other cryptocurrencies such as Bitcoin. Introduced in 2016, it too experienced a parabolic bull market run in 2017 along with the rest of the crypto market. From its all time high of $955 in January, it has gotten as low as $174 recently, a decline of nearly 82% in the bear market that's followed.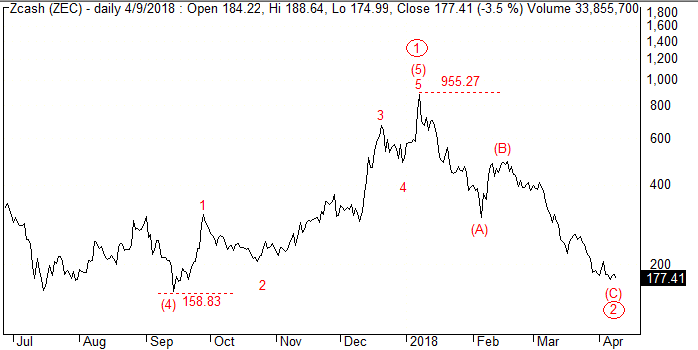 As the chart suggests, Zcash has undergone a classic Elliott Wave A-B-C bear market decline. While there's no evidence wave (C) of the decline has ended, it should likely be near establishing its lows. There's support in the 158 range.
Assuming the decline is concluding a second wave bear market, it foreshadows a third wave bull market to follow, one that takes Zcash well above its $955 highs. You may want to have it on your crypto radar screen.
Tony Carrion
Previous Articles:
March 3, 2018
February 8, 2018
January 24, 2018
---
ęCopyright 2018 Market-Harmonics.com. All content presented is the exclusive property of Market Harmonics. com, which is owned & operated by T. Carrion & Co., LLC, and may not be duplicated or distributed without the express written consent of the author.
This information is provided strictly for educational purposes. No investment advice is being offered. Those investing in these markets are encouraged to consult with qualified investment professionals and perform their due diligence before putting capital at risk.