---
Leading Crypto Currencies By Market Cap
Bitcoin Market Cap Update
Back in January, we wrote: "When we look at BTC from the perspective of its market capitalization and not its price, a bullish Elliott Wave picture emerges. Under wave analysis, bull markets rise in five waves. As the chart of Bitcoin's market cap shows, the rise has been in three waves to this point."
The article also included the following chart.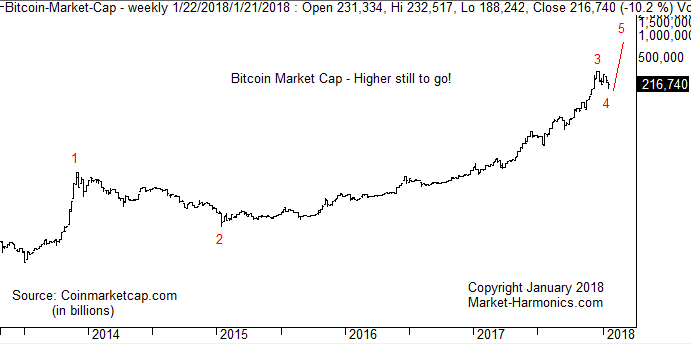 Below is an updated chart showing where Bitcoin's market cap stands today.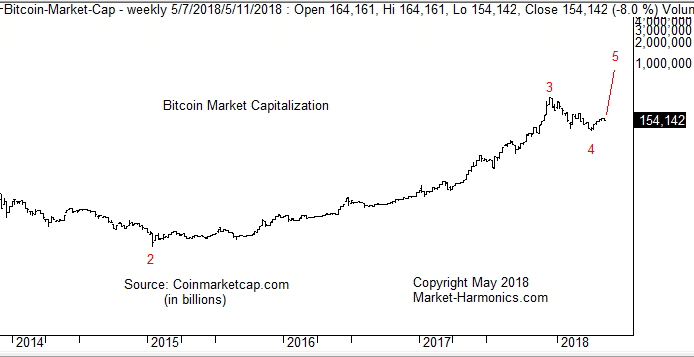 After hitting a low of $112.47 billion on April 7, BTC's market cap has surged some 46%. It's the biggest recovery in market cap since the start of Bitcoin's correction in December, and suggests a major bottom was hit. With few tools to measure valuation, market cap works about the best for gauging how the market is valuing Bitcoin. The key will be for the April 7 low to hold against another a decline. If it holds up, Bitcoin is headed higher.
Tony Carrion
Previous Articles:
April 9, 2018
March 3, 2018
February 8, 2018
January 24, 2018
---
ęCopyright 2018 Market-Harmonics.com. All content presented is the exclusive property of Market Harmonics. com, which is owned & operated by T. Carrion & Co., LLC, and may not be duplicated or distributed without the express written consent of the author.
This information is provided strictly for educational purposes. No investment advice is being offered. Those investing in these markets are encouraged to consult with qualified investment professionals and perform their due diligence before putting capital at risk.