---
Leading Crypto Currencies By Market Cap
Bitcoin - Selling Pressure Continues
The launch of the Bitcoin futures at the end of 2017 enabled a way to short it, something not always possible except in a handful of cash market exchanges. Recall at the time Bitcoin's price was rising in bubble fashion, and the inevitable crash was being anticipated.
Net long/short data for institutional traders in Bitcoin futures has been compiling over the past six months in the weekly Commitments of Traders reports issued by the CFTC. As the chart below suggests, Large Speculators in the futures have been persistently net short.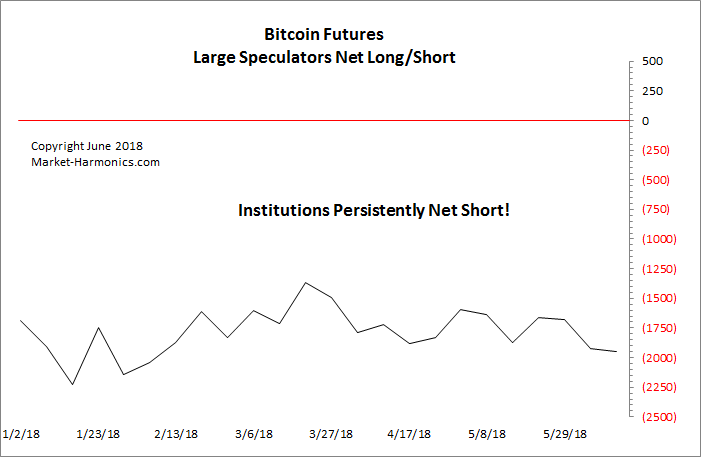 Futures trading already began with the net long/short position well below zero, which is bearish. Since March, the trend has been towards deepening of short positions held by Large Speculators, who are institutional traders and are responsible for big money flows. Whether they may be arbitraging between the cash and futures markets isn't so clear, although the tendency to sell rallies in the cash market suggests that bearish sentiment has prevailed. Extreme sentiment in one direction tends to give way to its opposite, but in as much as there's isn't a long history to measure previous sentiment extremes, we'll need to begin to see evidence of the Large Specs covering short positions. That would result in the black line rising. Ultimately, a rise above the red line into net long territory would confirm the change of trend.
Tony Carrion
Previous Articles:
May 12, 2018
April 9, 2018
March 3, 2018
February 8, 2018
January 24, 2018
---
ęCopyright 2018 Market-Harmonics.com. All content presented is the exclusive property of Market Harmonics. com, which is owned & operated by T. Carrion & Co., LLC, and may not be duplicated or distributed without the express written consent of the author.
This information is provided strictly for educational purposes. No investment advice is being offered. Those investing in these markets are encouraged to consult with qualified investment professionals and perform their due diligence before putting capital at risk.