---
Looking Higher in the Dollar
By Tony Carrion
Since our look at the US dollar recovery last month, our proprietary measure of dollar strength, Unweighted Major Currency Average (UMCA), is up 1.5%.
Even with the pullback against the Euro late in the week, the larger Elliott Wave trend shown below still favors continued USD strength versus our unweighted basket of major currencies (EUR, GBP, JPY, CAD, CHF, AUD).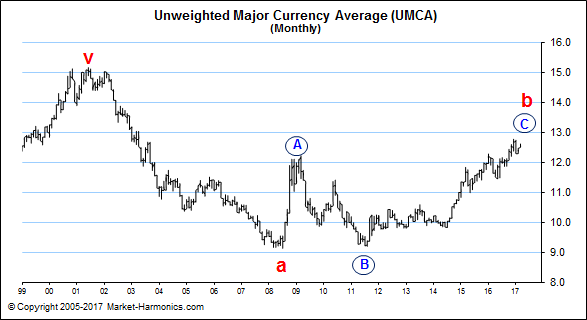 This more historical view of USD performance indicates the wave C trend is unfinished and should move above a reading of 13 over a period of weeks. At that point, signs of dollar weakness may become more apparent. For now, we're still bullish the dollar.
If you're not a subscriber to Elliott Wave International's Currency Pro Services, you're missing out on the tradable forex forecasts my colleagues and I provide round the clock, five days a week. Learn how to get a free 30 day subscription by clicking here.
---
Do you trade EURUSD, USDJPY, GBPUSD, AUDUSD, USDCHF, USDCAD, EURJPY, GBPJPY, EURGBP, EURCHF or AUDJPY? Learn about EWI's round-the-clock intraday, daily and longer-term Forex market coverage.
---
ęCopyright 2017 Market-Harmonics.com. All content presented is the exclusive property of Market Harmonics. com, which is owned & operated by T. Carrion & Co., LLC, and may not be duplicated or distributed without the express written consent of the author.