---
Cable Snaps
After the results of the British election became available late on Thursday, the British pound fell hard against the U.S. dollar. Friday morning, predictably, the headlines attributed the sell-off to the "shocker":
Pound Sinks Amid New Variables on Exiting E.U. (New York Times, June 9)
Yet, here's the real "shocker" -- for those unfamiliar with tracking and predicting the waves of the market's collective mood using Elliott wave analysis, that is.
On June 7, one day before the election, my colleague Currency Pro Service editor Jim Martens, took a long, hard look at Elliott wave price pattern in GBPUSD charts and wrote:
GBPUSD
Posted On: June 07, 2017 03:30 PM
Bottom Line: Cable appears poised to resume its decline regardless of the election result.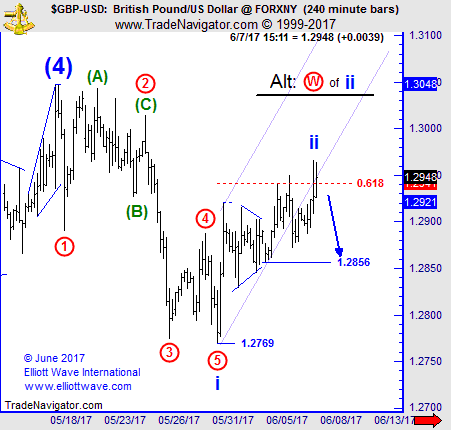 Outlook: If cable drops after the election scheduled for Thursday the press will likely pin it on the outcome. Note that the decline began three [weeks] ago and the recovery that followed looks corrective. It appears traders are poised to sell sterling regardless of the election result.
And here's what GBPUSD did after the election surprise: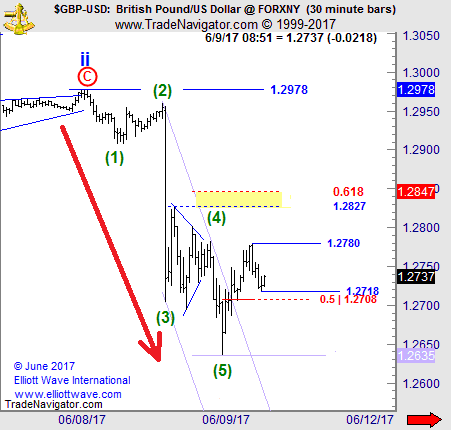 Our emotions guide us to a much larger extent than we think. In our experience of observing market behavior for almost four decades, only Elliott wave analysis allows you to peek around that next corner with a degree of certainty no other method can give you.
If you're not a subscriber to Elliott Wave International's Currency Pro Services, you're missing out on the tradable forex forecasts my colleagues and I provide round the clock, five days a week. Learn how to subscribe by clicking here.
---
Do you trade EURUSD, USDJPY, GBPUSD, AUDUSD, USDCHF, USDCAD, EURJPY, GBPJPY, EURGBP, EURCHF or AUDJPY? Learn about EWI's round-the-clock intraday, daily and longer-term Forex market coverage.
---
ęCopyright 2017 Market-Harmonics.com. All content presented is the exclusive property of Market Harmonics. com, which is owned & operated by T. Carrion & Co., LLC, and may not be duplicated or distributed without the express written consent of the author.