---
USD Strength Returning
By Tony Carrion
Going into the end of 2016, the FX market wasn't just long the US dollar, it was massively long. The buck then spent the next month correcting into late January. As tends to happen when one side of the boat gets overloaded, it capsizes.
Earlier this past week, a Bloomberg item caught my attention. It stated that institutional traders were massively reducing their dollar longs. From a contrarian point of view, it prompted me to think an end to the USD correction was likely near, if not already done.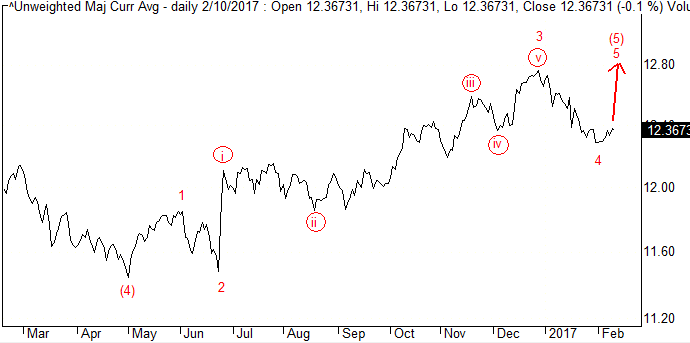 As our Unweighted Major Currency Average (UMCA) suggests, the month-long decline is a fourth wave within a still unfolding bull pattern, requiring a move above the wave 3 peak to complete it. While it's not 100% wave 4 has bottomed, there's other technical evidence to support that potential.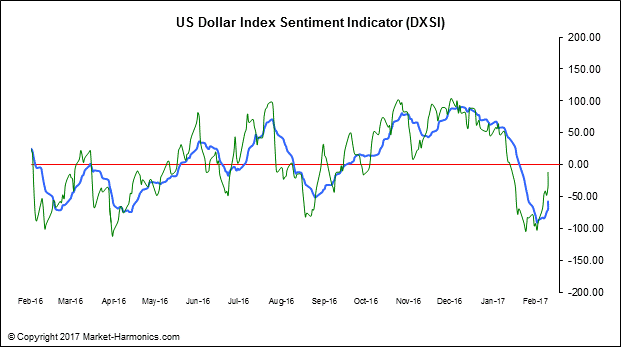 Our proprietary indicator of dollar sentiment pulled back to previous levels that have coincided with bottoms in the Dollar Index. The DXSI made its low on January 25 and has begun rising sharply, suggesting a low is in place, and supporting our view for another period of appreciation in the USD. That should ultimately translate into weakness for some key crosses like EURUSD and GBPUSD, and strength in USDJPY.
If you're not a subscriber to Elliott Wave International's Currency Pro Services, you're missing out on the tradable forex forecasts my colleagues and I provide round the clock, five days a week. Learn how to get a free 30 day subscription by clicking here.
---
Do you trade EURUSD, USDJPY, GBPUSD, AUDUSD, USDCHF, USDCAD, EURJPY, GBPJPY, EURGBP, EURCHF or AUDJPY? Learn about EWI's round-the-clock intraday, daily and longer-term Forex market coverage.
---
ęCopyright 2017 Market-Harmonics.com. All content presented is the exclusive property of Market Harmonics. com, which is owned & operated by T. Carrion & Co., LLC, and may not be duplicated or distributed without the express written consent of the author.