---
US Dollar at a Critical Juncture
By Tony Carrion
The recent breakouts in the Euro and British Pound have contained the USD's advance in what we still consider an incomplete wave ((C)) advance on the basis of our proprietary Unweighted Major Currency Average (UMCA).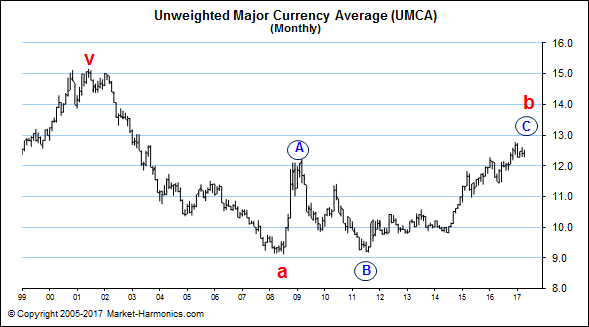 Trading algos did most of the heavy lifting in EURUSD and GBPUSD, in reaction to Brexit related headlines. Absent headlines to trade off, however, the rest of the move in these pairs has been somewhat unimpressive. Nevertheless, the bounces aren't likely complete, which could still keep the US dollar under some pressure. We'll take a look at some technicals below.
Since the spike up, EURUSD has traded sideways, ususally a sign the rally isn't complete. That said, both the RSI and Stochastic suggest momentum is waning, and a new high is likely to be a final one.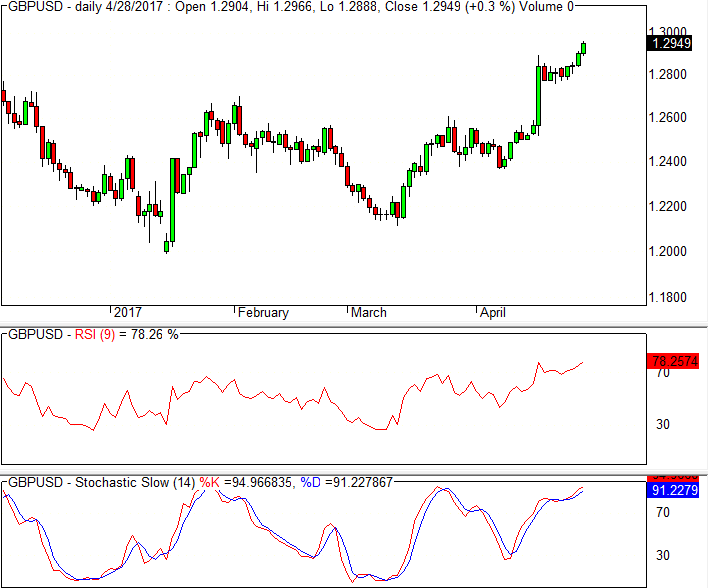 Similarly, Sterling is displaying momentum readings associated with a topping pattern. It would suggest the upside is limited perhaps into the 1.30-1.31 zone before price turns lower in what we consider a larger and still incomplete correction from the pre-Brexit 1.50 high.
Consequently, while the dollar is currently under some pressure, it may only prove to be short-term.
If you're not a subscriber to Elliott Wave International's Currency Pro Services, you're missing out on the tradable forex forecasts my colleagues and I provide round the clock, five days a week. Learn how to get a free 30 day subscription by clicking here.
---
Do you trade EURUSD, USDJPY, GBPUSD, AUDUSD, USDCHF, USDCAD, EURJPY, GBPJPY, EURGBP, EURCHF or AUDJPY? Learn about EWI's round-the-clock intraday, daily and longer-term Forex market coverage.
---
ęCopyright 2017 Market-Harmonics.com. All content presented is the exclusive property of Market Harmonics. com, which is owned & operated by T. Carrion & Co., LLC, and may not be duplicated or distributed without the express written consent of the author.