---
The Buck's Big Bang
Apparently, a number of traders were caught flatfooted by the US dollar's recent surge. As the chart below suggests, the number of Large Speculators (institutional traders) who were net long Euro futures achieved eleven year highs in April. The flip side is that this was an extreme in bearish sentiment in the Dollar versus the Euro , which was a warning. The current reversal of net long positions may get a lot deeper if the Dollar has begun a major advance.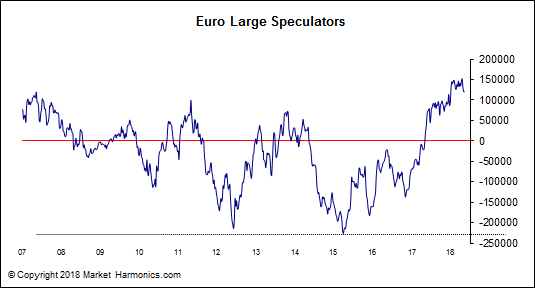 Although we thought we might see one final low before a USD bottom, our proprietary Unweighted Major Currency Average suggests the Dollar struck a key low back in February and began a stealth recovery that's since broken higher.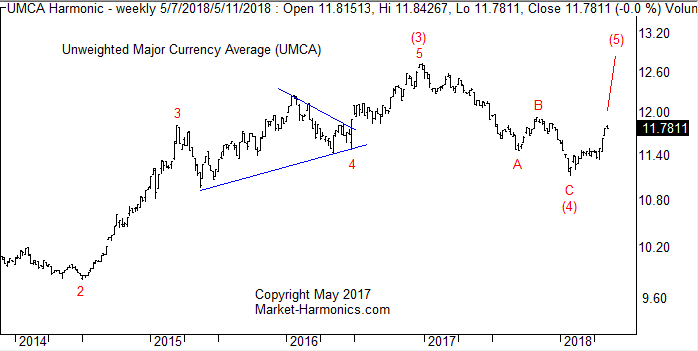 There's still a possibility the wave (4) correction isn't over, but a significant advance above the wave B high would support the case for a bottom. We'll be watching.
---
Do you trade EURUSD, USDJPY, GBPUSD, AUDUSD, USDCHF, USDCAD, EURJPY, GBPJPY, EURGBP, EURCHF or AUDJPY? Learn about EWI's round-the-clock intraday, daily and longer-term Forex market coverage.
Elliott Wave International is now offering a Cryto-currency forecasting service, where my colleagues and I are providing round the clock coverage. Click here to learn more.
---
ęCopyright 2018 Market-Harmonics.com. All content presented is the exclusive property of Market Harmonics. com, which is owned & operated by T. Carrion & Co., LLC, and may not be duplicated or distributed without the express written consent of the author.
This information is provided strictly for educational purposes. No investment advice is being offered. Those investing in these markets are encouraged to consult with qualified investment professionals and perform their due diligence before putting capital at risk.