---
USD - Forming a Key Low
The combination of deeply pessimistic extremes, and deep technically oversold levels, suggest that at least a counter-trend rally, if not a more substantial advance, should be ahead for the US dollar.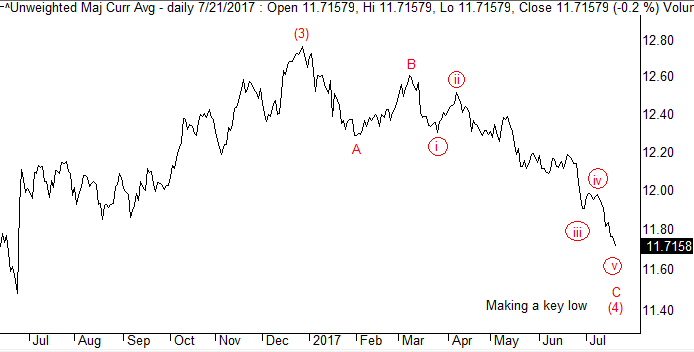 As our proprietary, unweighted index of the USD versus a basket of major global currencies suggests, the dollar is on the verge of completing a correction underway since the beginning of the year. Support levels for a low in the UMCA target the 11.65-11.48 range for a tradable bottom. Other than very short-term trading, building short positions at current levels would not be advisable. As the saying goes, the easy money has already been made.
The UMCA is updated weekends. You can view it here.
If you're not a subscriber to Elliott Wave International's Currency Pro Services, you're missing out on the tradable forex forecasts my colleagues and I provide round the clock, five days a week. Learn how to subscribe by clicking here.
---
Do you trade EURUSD, USDJPY, GBPUSD, AUDUSD, USDCHF, USDCAD, EURJPY, GBPJPY, EURGBP, EURCHF or AUDJPY? Learn about EWI's round-the-clock intraday, daily and longer-term Forex market coverage.
---
ęCopyright 2017 Market-Harmonics.com. All content presented is the exclusive property of Market Harmonics. com, which is owned & operated by T. Carrion & Co., LLC, and may not be duplicated or distributed without the express written consent of the author.