---
Can You Smell the Ether?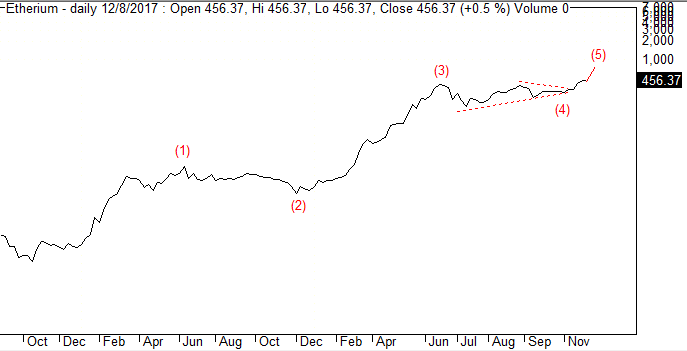 The relentless rise of Bitcoin has captured the headlines; at the same time, Etherium has been in the background similarly storming its way to new highs. It's also actually been the stronger performer on a percentage basis. While Bitcoin is up nearly 1,900% year to date, Etherium has risen 5,269%.
A thrust from a triangle pattern in early November has carried prices to within the $500 mark, a move of nearly 60%. Our view is that it should carry above $500 soon, as part of an incomplete bull market advance begun in 2015.
---
Do you trade EURUSD, USDJPY, GBPUSD, AUDUSD, USDCHF, USDCAD, EURJPY, GBPJPY, EURGBP, EURCHF or AUDJPY? Learn about EWI's round-the-clock intraday, daily and longer-term Forex market coverage.
---
ęCopyright 2017 Market-Harmonics.com. All content presented is the exclusive property of Market Harmonics. com, which is owned & operated by T. Carrion & Co., LLC, and may not be duplicated or distributed without the express written consent of the author.