---
US Dollar Uptrend Unbroken
By Tony Carrion
On the basis of our proprietary Unweighted Major Currency Average (UMCA), the US dollar has resumed its uptrend following the March dip. Even with the market's immediate reaction to the attack on Syria, which saw a "safe haven" flight to the Japanese Yen, USDJPY still ended the day up 0.2%, when most were betting it would continue lower. The resumption of the dollar's advance has also been abetted by the collapse in EURUSD since hitting 1.0906 on March 27, already down almost 4% since that high. (My colleagues and I as Elliott Wave International's Currency ProServices have been on top of all these turns. If you trade forex and aren't subscribed, you're missing out.)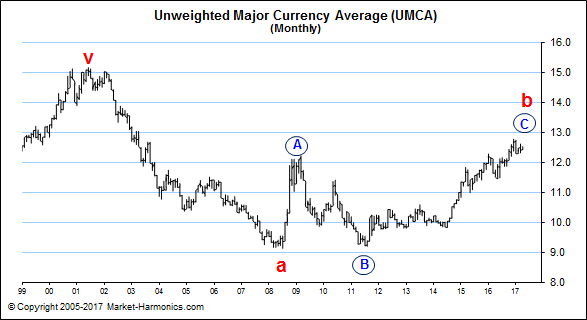 The analysis continues to suggest the dollar is advancing in a fifth wave pattern to complete wave C (circle) of b. It should move above a reading of 13 over a period of weeks. This equates to about 108 on the US Dollar Index. At that point, signs of larger dollar weakness may become more apparent. In the meantime, we're bullish USD.
If you're not a subscriber to Elliott Wave International's Currency Pro Services, you're missing out on the tradable forex forecasts my colleagues and I provide round the clock, five days a week. Learn how to get a free 30 day subscription by clicking here.
---
Do you trade EURUSD, USDJPY, GBPUSD, AUDUSD, USDCHF, USDCAD, EURJPY, GBPJPY, EURGBP, EURCHF or AUDJPY? Learn about EWI's round-the-clock intraday, daily and longer-term Forex market coverage.
---
ęCopyright 2017 Market-Harmonics.com. All content presented is the exclusive property of Market Harmonics. com, which is owned & operated by T. Carrion & Co., LLC, and may not be duplicated or distributed without the express written consent of the author.