---
The USD vs. Gold
Picking up from last month's discussion, the US dollar as measured by our proprietary Unweighted Major Currency Average continues its advance off the wave (4) low. The advance appears to be an "impulsive pattern" as we would say in Elliott Wave terms. That implies a change of trend has unfolded off the February lows from bearish to bullish. Not surprisingly, this has resulted in significant corrections in the Euro, British Pound and Japanese Yen (among others) versus the USD.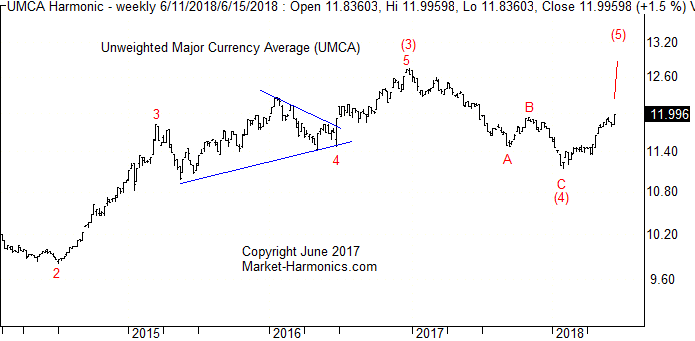 While this trend persists, any setbacks in the advance should prove temporary. A rally above the December 2017 highs of wave (3) should be the ultimate goal of this advance.
By contrast, during this period we'll look for gold to trade lower towards $1200 to complete the (D)-wave of a contracting and larger triangle, which we believe is how the bear rally from the January 2015 low is unfolding. The wave patterns tend to suggest short gold, long the US dollar.
---
Do you trade EURUSD, USDJPY, GBPUSD, AUDUSD, USDCHF, USDCAD, EURJPY, GBPJPY, EURGBP, EURCHF or AUDJPY? Learn about EWI's round-the-clock intraday, daily and longer-term Forex market coverage.
Elliott Wave International is now offering a Cryto-currency forecasting service, where my colleagues and I are providing round the clock coverage. Click here to learn more.
---
ęCopyright 2018 Market-Harmonics.com. All content presented is the exclusive property of Market Harmonics. com, which is owned & operated by T. Carrion & Co., LLC, and may not be duplicated or distributed without the express written consent of the author.
This information is provided strictly for educational purposes. No investment advice is being offered. Those investing in these markets are encouraged to consult with qualified investment professionals and perform their due diligence before putting capital at risk.