---
Crypto-Currency Crash - What Does it Mean?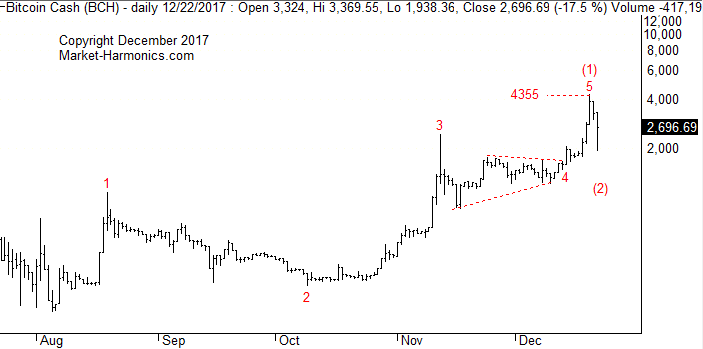 Bitcoin and a number of other crypto-currencies hit a key inflection point Thursday, with double digit percentage declines. Has the bubble finally burst? Rather than making a blanket judgment, a better approach is to look at the Elliott wave patterns of the individual cryptos and treat each as its own market.
The chart above is of Bitcoin Cash (BCH), which began trading in August. It was offered as a way to address the scalability issue of its well-known Bitcoin forerunner. (For those who are interested, Wikipedia offers a description of the controversy here. An excellent debate between leaders on both sides of the scalability issue took place on the Tom Woods show this week, which you can access here.)
The Elliott wave chart for BCH shows a clear five wave rally from the August launch, which topped at $4355 on December 20. It has already retraced over 50% of the entire advance, but until there's a rally above the high, more correcting may lie ahead. Our view for now is to regard the decline as counter-trend to a still unfolding bull market.
Elliott Wave International is now offering a Cryto-currency forecasting service, where my colleagues and I are providing round the clock coverage. Click here to learn more.
---
Do you trade EURUSD, USDJPY, GBPUSD, AUDUSD, USDCHF, USDCAD, EURJPY, GBPJPY, EURGBP, EURCHF or AUDJPY? Learn about EWI's round-the-clock intraday, daily and longer-term Forex market coverage.
---
ęCopyright 2017 Market-Harmonics.com. All content presented is the exclusive property of Market Harmonics. com, which is owned & operated by T. Carrion & Co., LLC, and may not be duplicated or distributed without the express written consent of the author.