Unfamiliar With Elliott Wave Terminology?
Click here
July 3, 2017
A Change in Sentiment?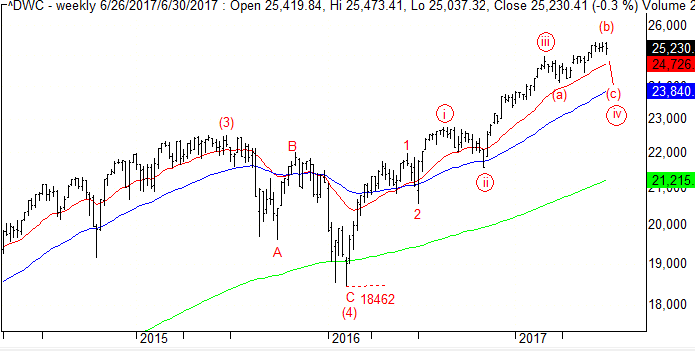 Other than the tech-laden Nasdaq 100, US stocks ended June without a meaningful decline. However, the evidence continues to suggest that one should be imminent. As the chart of the Wilshire 5000 Index, the broadest measure of US stocks, shows, we would consider a decline to be the final leg of a correction that once complete should give way to another (and perhaps final) advance to new highs.
As to when a decline may occur, extreme sentiment in the trading of the VIX-based ETF (VXX), offers some clues.

The table above shows options trading in the VXX as of Friday, June 30. I've highlighted the in and at the money strikes for the July 21 options contract. The data suggests the betting on the VIX going lower has been excessive, as witnessed by the extreme open interest put/call ratios, particularly at the $11.00-$11.50 strikes:
$11.00 - 28
$11.50 - 85
$12.00 - 11
$12.50 - 1.39
At a ratio of 28, put/call open interest at the $11.00 strike is indeed extreme. But it's totally outdone by the ratio of 85 at the $11.50 strike! In my entire career, I don't recall ever seeing a put/call ratio that high. To be fair, being short VXX is where the volatility speculators have been making their money. But by any measure, these ratios are at extreme extremes, and warn of a climate of complacency that's likely reaching an inflection point. It also suggests that when the market correction comes, it's likely to be a doozy.
You can follow the intraday and daily Elliott Wave analysis of US, European and Asia/Pacific stocks with a risk-free subscription to the Stock ProServices offered by Elliott Wave International. Click for more information.
---

For intraday and daily Elliott Wave forecasts of US, European and Asian stock markets, we highly recommend the ProServices offered by Elliott Wave International where I am an analyst.