See our special book offer to own the classic Elliott Wave Principle.
Global Stocks Outlook
The climate of extreme optimism towards equities as we discussed in the previous MBSO marches on. Apparently, it isn't only limited to the United States.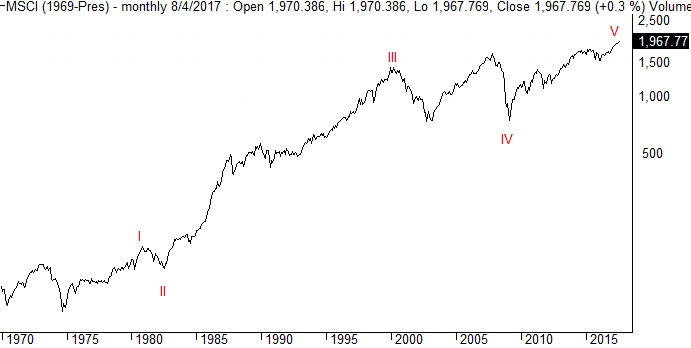 The chart above shows 44 years of price history for the MSCI World Stocks Index, a market cap weighted stock market index of 1,656 global stocks that is used as a common benchmark for international stock funds. As the Elliott wave labeling suggests, it's been in a secular bull market since Richard Nixon resigned as president of the United States. (It's tempting to wonder if there's any relationship).
More interesting, it's in the fifth, or terminal, wave of the bull market. Below, we'll see some Elliott wave evidence suggesting the end may be fast approaching.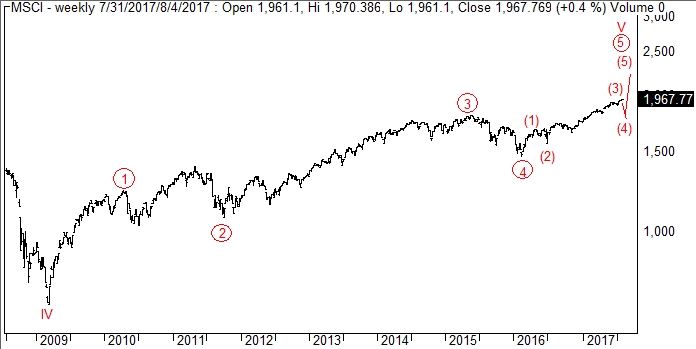 A zoomed in view showing the wave pattern from the 2009 low suggests a pullback, wave (4), should soon be seen, perhaps this month, followed by a final advance in wave (5). This final advance should play out into late 2017-early 2018.
The interesting thing here is that the final advance would be completing fifth waves at three degrees of trend, from Intermediate, to Primary, to Cycle. The implications here are enormous, as it would portend a devastating global bear market to follow. Obviously, within individual countries conditions will vary, and may see countries that have already been in bear markets start to emerge as areas to attract investment. But for those that are highly leveraged - which includes pretty much all major global markets - equities and bonds are likely to become the one place an investor wouldn't want to be.
You can follow the intraday and daily Elliott Wave analysis of US, European and Asia/Pacific stocks with a risk-free subscription to the Stock ProServices offered by Elliott Wave International. Click for more information.
---

For intraday and daily Elliott Wave forecasts of US, European and Asian stock markets, we highly recommend the ProServices offered by Elliott Wave International where I am an analyst.