Unfamiliar With Elliott Wave Terminology?
Click here
October 10, 2017
See our special book offer to own the classic Elliott Wave Principle.
Can Gold Still Glitter?
This month we look at gold. With those calling for a massive rise in price following an expected (and probably inevitable) meltdown in the credit markets, and a disruption of the currency markets, the Elliott Wave trends in gold may be suggesting otherwise.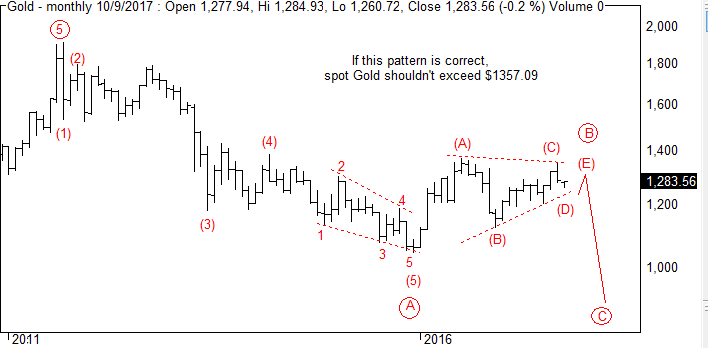 Since spot gold's $1046 low in December 2015, it has been rallying in what we count as a wave ((B)) retracement. It's not the start of a bull market in Elliott terms, but instead a count-trend move within an unfinished bear market. The wave pattern that appears to be tracing out off the low is a contracting triangle. Under the Elliott Wave model, within a contracting triangle, the pattern narrows between a series of lower highs and higher lows, until price thrusts out in the direction of the larger, underlying trend. In gold's case, that would be below $1046 to complete wave ((C)) of the bear market.
While that outcome isn't engraved in stone, the failure to produce a rally above $1400 after nearly two years, along with the mostly sideways trend, make a strong argument for this interpretation. It would suggest gold is unlikely to produce a high above $1357 and is more likely to resume its bear trend. A retracement towards the $682 low of 2008 wouldn't be out of the question.
My colleague at Elliott Wave International, Tom Denham, provides intraday, daily and long-term coverage of gold, silver and other metals. Find out more by clicking here. Look under the Metals section.
You can follow the intraday and daily Elliott Wave analysis of US, European and Asia/Pacific stocks with a risk-free subscription to the Stock ProServices offered by Elliott Wave International. Click for more information.
---

For intraday and daily Elliott Wave forecasts of US, European and Asian stock markets, we highly recommend the ProServices offered by Elliott Wave International where I am an analyst.