Unfamiliar With Elliott Wave Terminology?
Click here
January 27, 2017
US Markets Still Pointed Higher
We've been focusing on the advance in the Nasdaq 100 (NDX) in the past two editions of MBSO, stating in the December 24th update, "the short-term trend should stay bullish while support at 4647 holds." As suggested, the NDX has outperformed the broader averages including the Nasdaq Composite, and broke the psychological 5,000 barrier this month. For the month of January, the NDX is up 6.3% against the Composite's 5.2%. It is well past the blue chip indices like the S&P 500 (2.6%) and the Dow (1.0%).
Our chart above shows the Elliott wave pattern of the advance from the June 2016 low. In Elliott wave parlance, these are the "subdivisions" of an unfolding "impulse wave." The advance is subdividing within wave 3 of a larger degree wave (5) that began last June. The projection for wave 3 of (5) is a high above 5200. While we expect speed bumps along the way, they should result in relatively brief and small percentage retracements.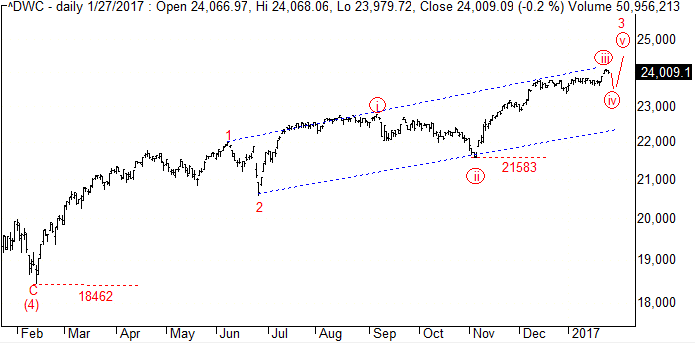 Looking at the market's bigger picture, the Wilshire 5000 Total Market Index, the broadest measure of US stocks, is up 2.5% in January, apparently on the back of the Nasdaq indices. Here, the broader market is rising in its own wave (5) advance from the lows of last February. The Wilshire has advanced 30% in just the past year. The so-called "Trump rally" is credited with the new all-time highs in various indices, but as the chart shows, this process was well underway before the November presidential election.
There will of course always be knee-jerk reactions to news, and all the more so with algorithmic trading being a dominant part of today's market environment. But the underlying Elliott wave trends should continue on their trajectories, regardless of the political environment.
You can follow the intraday and daily Elliott Wave analysis of US, European and Asia/Pacific stocks with a risk-free subscription to the Stock ProServices offered by Elliott Wave International. Click for more information.
---

For intraday and daily Elliott Wave forecasts of US, European and Asian stock markets, we highly recommend the ProServices offered by Elliott Wave International where I am an analyst.