NASDAQ - Bull Market Top In Place?
As discussed in the June MBSO, "The still incomplete five wave advance from the wave 4 low should likely press above 7800 with potential above 8000, or another 2-5 percent from current levels." On June 20, the NASDAQ Composite reached an intraday high of 7806.60 and plummeted nearly 4%. The "before and after" are shown below.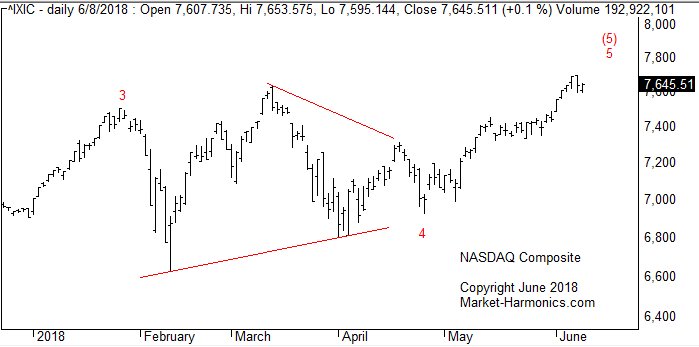 As we also stated, "when this fifth wave completes, it'll also be completing an even larger fifth wave at higher degree. Fifth waves are terminal moves, and are always followed by a correction. In this case, it may well be ending the NASDAQ's bull market advance from 2009."
Whether this ends the nine year bull market is still to be determined by the forward-going price action. But it is worth noting that the decline appears to be in five waves, which in Elliott Wave terms signals a change of trend, in this case to bearish. With the Naz achieving our minimum projection for a high "above 7800" the expectation is that the correction should continue following the current recovery rally. A potential target for the next leg of decline is the 6900 range.
It's worth noting that Apple (AAPL), the heaviest weighted component of the NASDAQ 100, also fell in five waves from its 194.20 high of June 7. If the trend has flipped here too, it should definitely weigh on the Naz.
To sum up, the price action of the past month keeps us alert to the potential for much lower while the 7806.60 high stays intact.
You can follow the intraday and daily Elliott Wave analysis of US, European and Asia/Pacific stocks with a risk-free subscription to the Stock ProServices offered by Elliott Wave International. Click for more information.
---

For intraday and daily Elliott Wave forecasts of US, European and Asian stock markets, we highly recommend the ProServices offered by Elliott Wave International where I am an analyst.