See our special book offer to own the classic Elliott Wave Principle.
Global Stocks - A Look Ahead
Equities markets continue to defy gravity, challenging traditional metrics of momentum and sentiment. It seems that if stocks are looking overbought, they can get more overbought. If bullish sentiment appears extreme, it can apparently get more extreme. Perhaps the fact that traders are becoming increasingly silicon based instead of carbon based might have something to do with the relentless pursuit of upside. That said, the Elliott Wave pattern for global stocks suggests the bull market should carry deeper into 2018.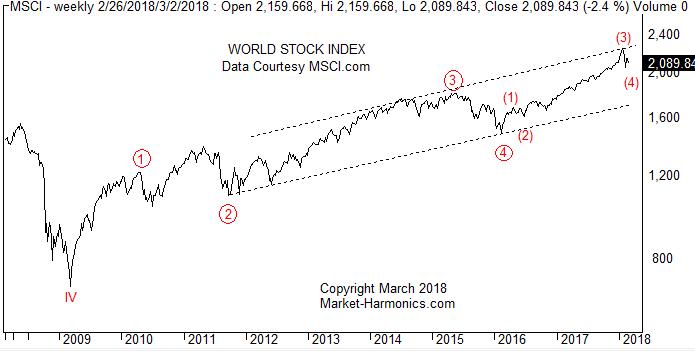 Under the Elliott Wave Principle, five waves move in the direction of the larger trend, which themselves subdivide into five waves. Consequently, five waves are still to complete from the February 2016 low in the MSCI World Stock Index, to complete the larger five wave trend from 2009. Applying that basic concept, the advance from February 2016 is in the third wave phase, which should be close to its conclusion.
When it begins to correct in wave (4), we'd be looking for a pullback on the order of 5-7 percent before the index resumes its advance. All this should likely play out over the first two quarters.
You can follow the intraday and daily Elliott Wave analysis of US, European and Asia/Pacific stocks with a risk-free subscription to the Stock ProServices offered by Elliott Wave International. Click for more information.
---

For intraday and daily Elliott Wave forecasts of US, European and Asian stock markets, we highly recommend the ProServices offered by Elliott Wave International where I am an analyst.