Unfamiliar With Elliott Wave Terminology?
Click here
April 9, 2018
The NASDAQ Has Gotten Interesting
While the recent stock market rout isn't likely over, the Elliott Wave action in the NASDAQ indices suggest a bull market top is unlikely.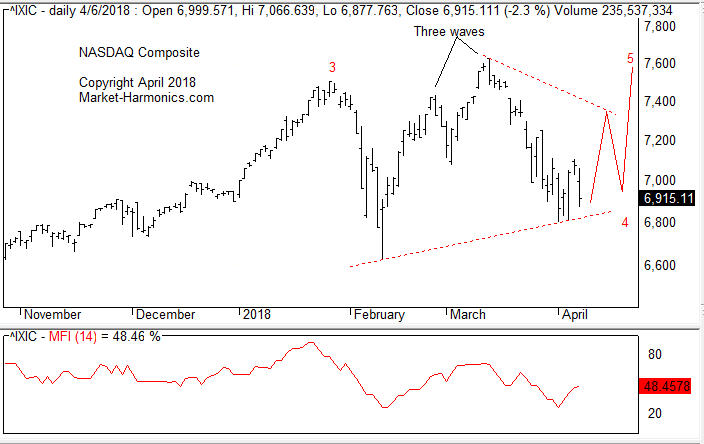 One of the most basic concepts in Elliott Wave analysis is that five waves move in the direction of the one larger trend, and three move counter to it. Five waves are called impulsive, and three waves, or multiples thereof, are called corrective. The advance to the 7637 high of March 13th is distinctly in three waves, as noted in the chart. That means the high is part of a corrective pattern. As long as the February 9th low stays intact against a further decline, it's likely that a triangle pattern is forming. This is common in fourth wave corrections. If the outlook is correct, we should see a rally and a final pullback to complete wave 4. Then, it's on to new highs above 7637 in wave 5.
Also showing below the current readings of the Money Flow Index (MFI), which measures whether buy pressure or sell pressure is prevailing. So far, the bulls have mostly held the advantage.
You can follow the intraday and daily Elliott Wave analysis of US, European and Asia/Pacific stocks with a risk-free subscription to the Stock ProServices offered by Elliott Wave International. Click for more information.
---

For intraday and daily Elliott Wave forecasts of US, European and Asian stock markets, we highly recommend the ProServices offered by Elliott Wave International where I am an analyst.