Unfamiliar With Elliott Wave Terminology?
Click here
May 11, 2018
US Stocks Pointed Higher
Last month's MBSO stated: "One of the most basic concepts in Elliott Wave analysis is that five waves move in the direction of the one larger trend, and three move counter to it. Five waves are called impulsive, and three waves, or multiples thereof, are called corrective. The advance to the 7637 high of March 13th is distinctly in three waves, as noted in the chart. That means the high is part of a corrective pattern. As long as the February 9th low stays intact against a further decline, it's likely that a triangle pattern is forming. This is common in fourth wave corrections. If the outlook is correct, we should see a rally and a final pullback to complete wave 4. Then, it's on to new highs above 7637 in wave 5."
We presented the chart below, and now include an updated chart showing the triangle has completed, and that the Nasdaq Composite should now be rising in wave 5. A break of the 7637 high would confirm the uptrend.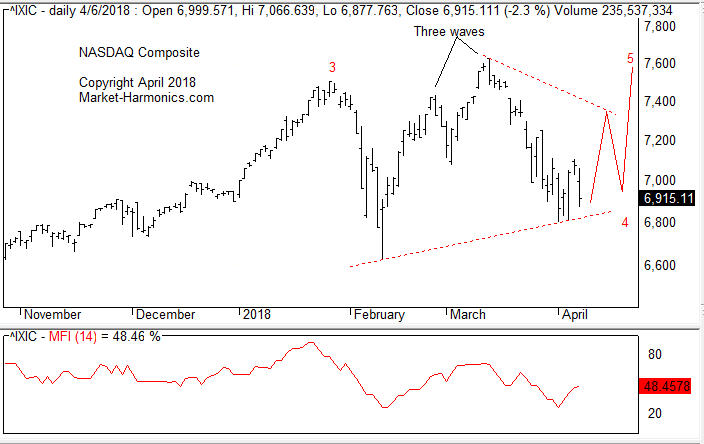 Another interesting development is that we detect the very same triangle breakout in the Wilshire 5000 Total Market Index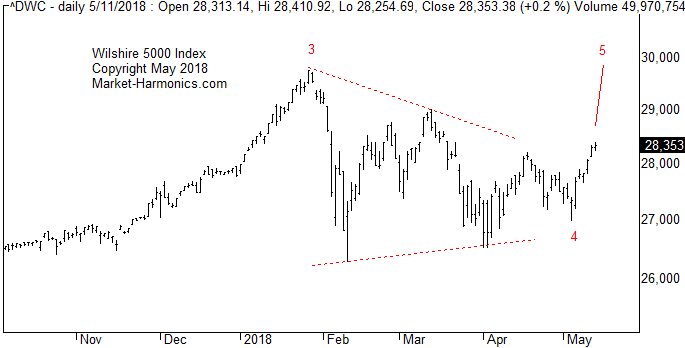 If this outlook is correct, it's a very significant development, as it indicates the correction from January should now be well behind us. Since the Wilshire is the broadest index of US stocks, all sectors should be participating to one degree or another. A push above the wave 3 high will confirm the advance in wave 5.
A note of caution is that as a fifth wave, it will be ending the advance begun all the way back in January 2016, and could produce the end of the bull market from 2009. The shorter-term trend, however, should be bullish.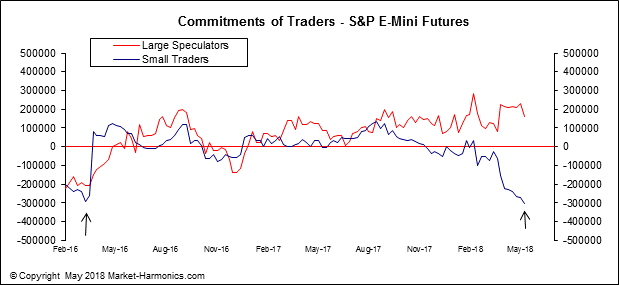 Looking at market sentiment, the latest Commitments of Traders data for traders of S&P E-Mini futures shows that trader sentiment, particularly Small Traders who tend to be mostly retail as opposed to professionals, are not only net short, but at their deepest net short position since February 2016. Undoubtedly, their shorts have been getting nailed in recent days. Sentiment will often be extreme at key inflection points, and extremes generally precede big moves in the opposite direction.
You can follow the intraday and daily Elliott Wave analysis of US, European and Asia/Pacific stocks with a risk-free subscription to the Stock ProServices offered by Elliott Wave International. Click for more information.
---

For intraday and daily Elliott Wave forecasts of US, European and Asian stock markets, we highly recommend the ProServices offered by Elliott Wave International where I am an analyst.