A Swoon in June?
As stated in the May 2017 MBSO, " Those applying the old 'Sell in May and Go Away' adage may find themselves in for some disappointment." Based on the broadest measure of US stocks, the Wilshire 5000 Index (W5000), our caution was justified, with the index up 0.7% for the month. Tech shares did much off the heavy lifting, evidenced by the Nasdaq 100 (NDX) closing the month up 3.7%.
Not all the market's performance was so stellar, particularly in the small cap space. The Russell 2000 was down 2.2%, and large caps, based on the S&P 500, were up 1.2%.
The mixed performance results in a change to our Elliott wave bull market model for the Wilshire 5000 - along with a caution that US stocks may see their most meaningful correction since June 2016. It should only prove to be a bump in the road, as the bull market isn't likely near a top. But we should still be alert.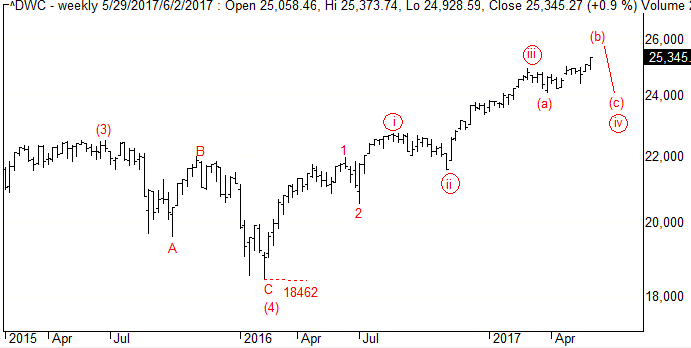 The Wilshire 5000 may have some remaining upside as we enter into June, but the advance to new highs in May appears to be the product of what we would call a corrective rally. The technical Elliott wave term is a "flat." Often, the B-wave of flat will exceed the previous high, but it's a prelude to the C-wave reversal that completes the flat. It warns us not to get too caught up in the current euphoria.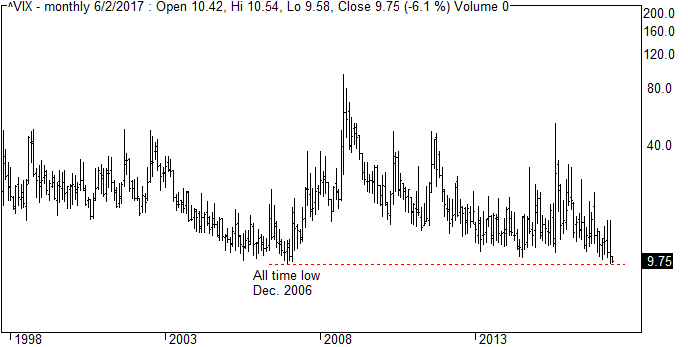 Another warning that a correction may be dead ahead is the current reading in the VIX, which is at nearly 11 year lows. Although the December 2006 VIX low of 9.39 didn't spell the end of the then bull market, the period between January to October of 2007 was punctuated by new market highs, followed by sharp corrections until the final top. We want to be alert to a pick up in volatility as the VIX begins to rise off its currently deep levels of investor complacency.
You can follow the intraday and daily Elliott Wave analysis of US, European and Asia/Pacific stocks with a risk-free subscription to the Stock ProServices offered by Elliott Wave International. Click for more information.
---

For intraday and daily Elliott Wave forecasts of US, European and Asian stock markets, we highly recommend the ProServices offered by Elliott Wave International where I am an analyst.